Agenty custom roles feature allow you to create and assign new roles to individuals, to securely control individual and group access to your Agenty resources. The custom roles can be created by users with Admin and Owner permissions.
A custom role is a set of rules which defines the permissions for making Agenty service requests. You can create custom roles using cloud.agenty.com and also using Roles API.
Agenty already have 5 built-in roles (Owner, Admin, Manager, Accountant and Viewer) under team management, and here are the steps to create, update and delete a custom role:
Create Role
Go to Team menu in left sidebar
Click on the Roles button on top left side
Click on New Roles button
Enter the Name of new role and select the permissions from given list by clicking on checkbox.
Here, I want to create a trainee role and allows the individual to just view my agents, logs and results only. So, I enter the Role name and select its access by clicking on checkbox and save it by clicking on Save button.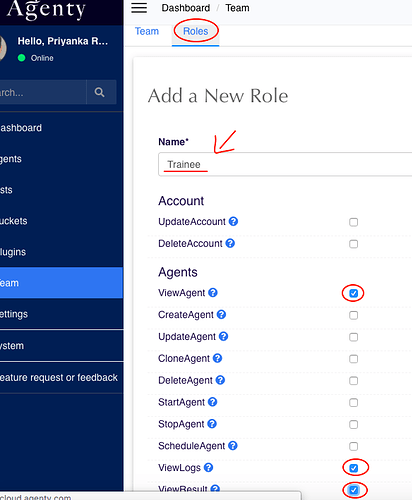 Attach Role
Once the role has been created, we can see it in the Access Role (Team Member) dropdown box, while creating/editing a team member. Here, we can select this role to attach to particular member(s).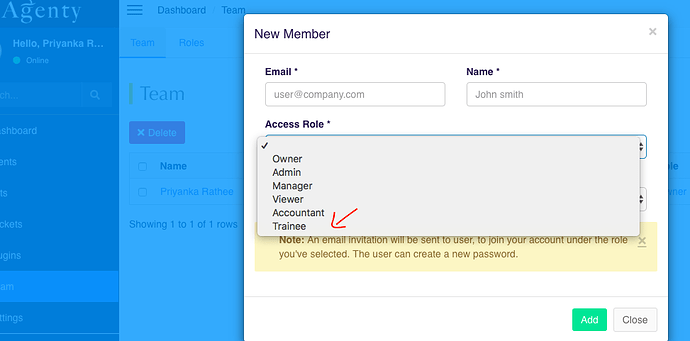 Update Role
Go to Team menu > Roles tab
Click on role name, which you want to update from Roles list
Here, we can change the role Name or Access when needed.
For eg. I want to change the permissions of Trainee role, so I added an access(Start agent) by clicking on checkbox. And then click on Save button to apply the changes.

Delete Role
Go to Team menu > Roles tab
Select the role which you want to delete from Roles list by clicking on checkbox
Click on the top left side Delete button,
The confirm dialog box will open for confirmation, select Yes to delete the role permanently